Awards
The Diana Forsythe Prize
It is with great pleasure that we announce the winner of the 2015 Diana Forsythe Prize, Gabriella Coleman for Hacker, Hoaxer, Whistleblower, Spy: The Many Faces of Anonymous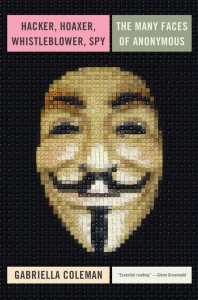 Hacker, Hoaxer, Whistleblower, Spy: The Many Faces of Anonymous (Verso, 2014) is a powerful ethnography of the making and remaking of networked computational infrastructures and their animating publics and politics. Taking a multi-method anthropological approach to understanding the unruly online collective known as Anonymous, Coleman creatively continues Diana Forsythe's legacy of getting underneath the cultural logics motivating projects of computational representation and culture. In her unique ethnographic exploration, she tracks affiliated participants across virtual and physical spaces, providing a rich and highly intricate understanding of the labyrinthine worlds that her hacker-activist subjects occupy.
Writing on a much-criticized and often misunderstood technosocial "movement" lacking a fixed or overarching structure, Coleman's original book deftly navigates the complexities, ambiguities, and controversies of digital forms of activism. At once intellectually rigorous, impressively thorough, and captivatingly readable, Hacker, Hoaxer, Whistleblower, Spy speaks to a wide audience with sophistication and nuance, offering highly generative analysis and eliciting multiple readings that bring us closer to (if never overcoming) the contradictions and uncertainties of her subject matter. Where Anonymous have often been demonized or dismissed in popular media, Coleman refuses the "gross fetish of stereotypes" so often mobilized in its characterization, instead astutely reading Anonymous as a new and important kind of political collective exposing and acting against the security state and its attacks on fundamental freedoms.
Throughout the book, Coleman shifts reflexively between numerous roles: an anthropologist studying sometimes-illegal activity; a participant-observer in an online world; a go-between and translator of sorts between the collective and the public. In the process, she offers a timely and immensely relevant contribution to critical contemporary scholarship and public debates on technology, digital worlds, social movements, and incipient forms of politics.
Expertly probing the social, ethical, and political spheres of democracy and voice in our contemporary world, Coleman's generous approach opens space to consider the new possibilities for politics, direct action, solidarity, and organizing that are too easily erased or distorted. Enchantment, in her account—that of Anonymous, and her own—presents as an ethical and political possibility, a means of sustaining or cultivating hope, a form that works to propel "disruption and change." For opening new channels of thought into our technological present and characterizing new forms of politics in-the-making, this brave scholar and her vivid book deserve our highest prize.
2015 Honorable Mention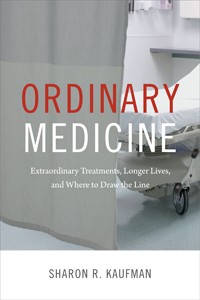 In Ordinary Medicine: Extraordinary Treatments, Longer Lives, and Where to Draw the Line (Duke University Press, 2015), Sharon Kaufman explores the consequences of the life-extending biomedical and pharmaceutical technologies that have become part of the standard of care for treating conditions that affect millions of elderly people in the United States. Through powerful ethnographic scrutiny, Kaufmann questions what has become accepted commonsense about medical technology, aging, and care and urges us to ask core humanistic questions about who we are, how we want to live, and the kinds of choices and sacrifices we are willing to accept (or not). Writing from within the "postprogress" world of contemporary American health care, the piercing anthropologist grapples with the cultural, political, and economic forces that both shape and are shaped by our expectations, hopes and desires.  In so doing, Kaufman's lucid, sharp and compelling book exposes the hidden logics and systems that structure our present quandaries, and offers new avenues for asking: "how, ultimately, do we want to live in relation to medicine's tools?"
The lessons of this exemplary ethnography build upon Diana Forsythe's pioneering ethnographic work on infrastructures of medical expertise, showing us what happens when "life" is valued as a thing — rather than a process — in itself.  While debates about health care reform in the United States consistently skirt the question of values in favor of a technocratic rhetoric about efficiency and cost control, Kaufman's essential work points out that the conjoining of scientific evidence, Medicare policy, and therapeutic imperatives have nonetheless given rise to a makeshift ethical field which significantly impacts familial and self-governance. Her approach to this novel sociomedical reality complicates assumptions of technological rule from above, and grounds market abstractions in lived realities and relations of care. Reclaiming medicine as a social good and a question of values, Kaufman restores the "existential and social" to questions about living and dying amidst the promises and perils of contemporary health care and, in so doing, lives up to anthropology's highest humanistic and critical goals.
The Diana Forsythe Prize was created in 1998 to celebrate the best book or series of published articles in the spirit of Diana Forsythe's feminist anthropological research on work, science, and/or technology, including biomedicine. The Prize is awarded annually at the meeting of the American Anthropological Association by a committee consisting of one representative from the Society for the Anthropology of Work (SAW) and two from the Committee on the Anthropology of Science, Technology, and Computing (CASTAC). It is supported by the General Anthropology Division (GAD) and Bern Shen.
Previous recipients are:
2014: S. Lochlain Jain for Malignant: How Cancer Becomes Us (California Press, 2013)
2014 Honorable Mention: Adriana Petryna for When Experiments Travel: Trials and the Global Search for Human Subjects (Princeton University Press, 2009).
2013: Heather Paxson for The Life of Cheese: Crafting Food and Value in America (University of California Press, 2012)
2012: Rene Almeling for Sex Cells: The Medical Market for Eggs and Sperm (University of California Press, 2011)
2011: Alexander Edmonds for Pretty Modern: Beauty, Sex and Plastic Surgery in Brazil (Duke University Press, 2010)
2010: Elly Teman for Birthing a Mother, The Surrogate Body and the Pregnant Self (University of California Press, 2010)
2009: Emily Martin, for Bipolar Expeditions: Mania and Depression in American Culture (Princeton University Press, 2007)
2008: Joao Biehl, for Will to Live: AIDS Therapies and the Politics of Survival (Princeton University Press, 2007)
2007: Marcia Inhorn, for Local Babies, Global Science: Gender, religion and in vitro fertilization in Egypt (Routledge, 2003)
2006: Jan English-Lueck, for Cultures@SiliconValley (Stanford University Press, 2002)
2005: Joe Dumit, for Picturing Personhood: Brain Scans and Biomedical Identity (Princeton University Press, 2004)
2003: Cori Hayden, for When Nature Goes Public: The Making and Unmaking of Bioprospecting in Mexico (Princeton University Press, 2003)
2002: Lucy Suchman, for the body of her work
2001: Stefan Helmreich, for Silicon Second Nature: Culturing Artificial Life in a Digital World (University of California Press, 1998)
2000: David Hess, for the body of his work
1999: Rayna Rapp, for Testing Women, Testing the Fetus: The Impact of Amniocentesis in America (Routledge, 1999).
GAD Prize for Exemplary Cross-Field Scholarship
The General Anthropology Division (GAD) has long supported innovative scholarship that transcends the seemingly all too rigid boundaries that divide the various fields of anthropology. In this spirit, GAD is pleased to announce the 2015 recipient, Noah Tamarkin, for "Genetic Diaspora: Producing Knowledge of Genes and Jews in Rural South Africa," which appeared in Cultural Anthropology, vol. 29, issue 3, pp. 552-574.
Recent Recipients
2014 Charles Briggs for "Dear Dr. Freud," Cultural Anthropology, Vol. 29, Issue 2, pp. 312-43
2013 Juno Rheana Parrenas for "Producing Affect: Transnational Volunteerism in a Malaysian Orangutan Rehabilitation Center," American Ethnologist 2013, 39(4):241-262
2013 Runner-up Duana Fullwiley for "Revaluating Genetic Causation: Biology, Economy, and Kinship in Dakar, Senegal," American Ethnologist 2010, 37(4):638-661
2012 Jonathan Marks for "What is the Viewpoint of Hemoglobin, and Does it Matter?" History and Philosophy of the Life Sciences 2009, 31:241-262
2011 Kathy Weedman-Arthur for "Feminine Knowledge and Skill Reconsidered: Women and Flaked Stone Tools," American Anthropologist, 112(2): 228–243.
Honorable Mention: Zoe Crossland for "Of Clues and Signs: The Dead Body and its Evidential Traces" American Anthropologist. 2009. 111(1): 69-80.
2010 David J. Hess for "Crosscurrents: Social Movements and the Anthropology of Science and Technology," American Anthropologist, 109(3): 463–472.
Honorable Mention: Pamela L. Geller for "Bodyscapes, Biology, and Heteronormativity," American Anthropologist, 111(4): 504-516.
2009 Michael M. J. Fischer for "Four Cultural Genealogies for A Recombinant Anthropology of Science and Technology Studies" Cultural Anthropology, 22(3): 539-614.
Honorable Mention: Kevin Birth for "Time and the Biological Consequences of Globalization." Current Anthropology. 2007. 48(2):215-226, 232-236.
2008 Ron Eglash, et al for "Culturally Situated Design Tools: Ethnocomputing from Field Site to Classroom", American Anthropologist, Vol. 108, No. 2. (2006), pp. 347-362.
Honorable Mention: Naomi Quinn for "The Self." Anthropological Theory. 2006. 6(3): 362-384.
How to Apply:
All nominations for the Diane Forsythe Prize, including self-nominations, are welcomed. To be eligible, books must have been published in the last five years (copyright of 2011 or later). The current submission deadline is July 31, 2016 (early nominations appreciated) and nominations should be sent via email to Selection Committee Chair, João Biehl at jbiehl@princeton.edu. Publishers, please send a copy of nominated titles to each of the selection committee members listed below. Publishers should submit three copies of the nominated title, one to each committee member listed below:
João Biehl
Department of Anthropology
Princeton University
128 Aaron Burr Hall
Princeton, NJ 08544
Stefan Helmreich
Department of Anthropology
Room E53-335Q
Massachusetts Institute of Technology
77 Massachusetts Avenue
Cambridge, MA 02142 USA
Nina Brown
Department of Anthropology
Community College of Baltimore County
7201 Rossville Boulevard
Baltimore, MD 21237-3899
The Cross-Field Award is awarded annually by GAD for a peer-reviewed journal article published in the preceding three years that demonstrates exemplary scholarship from any theoretical or methodological perspective including applied research that transcends two or more fields of anthropology, broadly construed, or is interdisciplinary in nature. The Award carries an honorarium of $1000.
To nominate an article published in 2013 or later for the 2016 GAD Award for Exemplary Cross-Field Scholarship or to obtain additional information, please contact Robert Myers at myers@alfred.edu. Nominations will be accepted until July 1, 2016. Self-nominations are welcome and should include an email nominating an eligible article plus a .pdf file of the article.