GAD is pleased to announce the 2017 winners of the Diana Forsythe Prize, GAD New Directions Award, GAD Prize for Exemplary Cross-Field Scholarship, and CASTAC David Hakken Prize. Please join us at the Annual Meeting in Washington D.C. to recognize the awardees (listed below) at the:
GAD Awards Ceremony and Reception,
Friday, December 1, 7:45–9:00 PM,
Marriott, Maryland Suite A.
Diana Forsythe Prize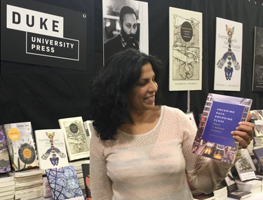 Winner: Sareeta Amrute for Encoding Race, Encoding Class: Indian IT Workers in Berlin (Duke University Press, 2016).
Honorable Mention: Emilia Sanabria for Plastic Bodies: Sex Hormones and Menstrual Suppression in Brazil (Duke University Press, 2016).

CASTAC David Hakken Prize
Winner: Nicole Welk-Joerger (PhD Candidate, University of Pennsylvania) for "Achieving Eden in the Amish Anthropocene."
Honorable mention: Héctor Beltran (PhD Candidate, UC Berkeley) for "Staging the Hackathon: Codeworlds and Code Work in México."
GAD Prize for Exemplary Cross-Field Scholarship
Winner: Rachel Carmen Ceasar for "How I Learned to Love the Bomb: Excavating Pueblo Politics, Love, and Salvaged Technologies after Conflict," in Journal of the Royal Anthropological Institute vol. 22, no. 3 (2016), p. 570-590.
Challenging prevailing archaeological insights, Rachel Carmen Ceasar foregrounds the human technology of affect in examining how residents of a right-wing pueblo, destroyed during the Spanish Civil War, form meaningful relationships with the material remnants of war. Presented as instances of knowledge production, she argues that the intimate connections people make with bombs, bullets, and battlefield scrap-metals complicate politically polarized framings of the past, providing nuanced alternatives informed by locally grounded emotions and interests. The Awards Committee commends Ceasar for the ways in which she creatively and compellingly combines memory and materiality in her work. The product of a medical anthropologist, engaged in an ethnographic analysis of the discourses of material culture unveiled through archaeological research, "How I Learned to Love the Bomb" stands as an exemplary piece of cross-field anthropological scholarship.
GAD New Directions Award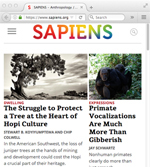 Winner, Group Award: SAPIENS (sapiens.org)
An online publication dedicated to popularizing anthropological research to a broad, public audience, in its first two years SAPIENS has already become a vital digital space for anthropology on the Web. Through news coverage, features, commentaries, reviews, photo essays, videos, and much more, SAPIENS provides a public platform for anthropological research and insights into current events. Through publishing pieces aimed at deepening readers' understanding of the human experience—including works that explore novel, thought-provoking, and unconventional ideas—SAPIENS has successfully transformed how the public consumes anthropology, and, in turn, how people see themselves and their world.
In addition to providing quality scholarship in sophisticated yet accessible formats, the Awards Committee cites SAPIENS' broad reach and impact. As of September 2017, twenty-one pieces from SAPIENS have been published through its syndicated partnerships with Discovery Magazine, Scientific American, Slate, The Atlantic, and Aeon. The online publication has amassed over two million page views, fifty-eight thousand Facebook "likes," eight thousand twitter followers (@SAPIENS_org), seven thousand email subscribers, and 234 published articles accessed from every country in the world except North Korea.
GAD New Directions Award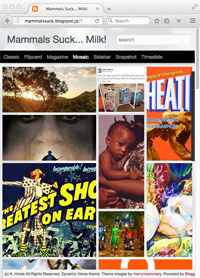 Winner, Individual Award: Katie Hinde
The New Directions Awards Committee recognizes Dr. Katie Hinde (Arizona State University) for her contributions to public anthropology through her "Mammals Suck… Milk!" blog and her innovative educational tool, March Mammal Madness—an annual 64-animal bracket tournament where mammals go head-to-head in combat with the most biologically fit advancing. Since 2011, "Mammals Suck… Milk!" has featured creative and accessible, yet academically rigorous blog entries showcasing research on mothers' milk, breastfeeding, and lactation for the general public, clinicians, and researchers. Over the past five years, March Mammal Madness has become an international phenomenon with multiple contributing scientists. In 2017, over 200 educators requested advance access to the bracket chart for lesson planning (suggesting that at least 10,000 students played the alternative March Madness tournament). March Mammal Madness has been featured in the Boston Globe, Chicago Tribune, and on NPR. It currently has over 2000 followers on Facebook and 5800 Twitter followers. The Awards Committee applauds Hinde for her effective approaches to engaging people in issues surrounding mammalian evolution as well as for her creative appropriation of American sports culture in these efforts.
Write-ups for the New Directions and Cross-Field Scholarship Awards were composed by Anthony Kwame Harrison drawing on excerpts from nomination letters by Melanie Beasley and Chip Colwell, as well as comments from members of the awards committees.