GAD Distinguished Lecture by Ruth Behar
Friday November 16th, 12:15 PM – 1:45 PM
Executive Ballroom 210 A, San Jose Convention Center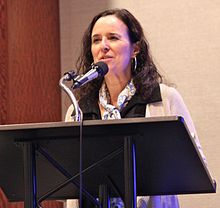 Each year the General Anthropology Division invites a prominent individual in the broad field of anthropology to deliver an address at the AAA meetings. This year's Distinguished Lecture is by award-winning Cuban-American anthropologist and writer Professor Ruth Behar of the University of Michigan.
"Anthropology and the Search for Home: Reflections of an Immigrant Ethnographer."
Pico Iyer has said that, in our time, "home has less to do with a piece of soil than a piece of soul." Behar's lecture will address the complex topic of what home signifies in our era of massive displacement. Delving into her own immigrant story and her ethnographic journeys to Spain, Mexico, and Cuba, Behar will reflect on the complex ways that vulnerability informs her work and attempt to speak about the current immigration crisis and its meaning for anthropology.
CASTAC Invited Lecture by Biella Coleman
GAD Committee for the Anthropology of Science, Technology, and Computing
Friday November 16th, 3:00 PM – 4:15 PM
Hilton, Santa Clara II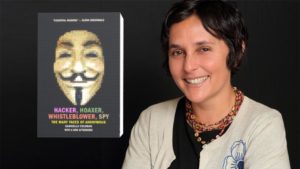 "Alt/far-right vs. Anonymous: two side of the same coin?"
Today, "the alt or far right" has become the latest online phenomenon for critics, pundits, and scholars to highlight, pick apart, and understand. And for good reason. These actors, a loose coalition of various groups and individuals, including hard-core internet trolls, white nationalists, men's rights activists, game enthusiasts, and others, have been shrewd in harnessing elements of the internet to recruit new participants, manipulate journalists, and support the Donald Trump Presidency. Just 6 years ago, another phenomena existed in similar slot: Anonymous—the hacktivist collective that captured news headlines for its hacking sprees, vigilante justice operators, and support of various social movements like Occupy and the Arab Spring. In this talk, I address a new narrative that has taken hold, a tale that has collapsed these two movements presenting them as two different (or not all that different) moments in the same lineage, a genealogy that can be traced to the anonymous images boards where Internet trolling and transgression thrived and where both movements were indeed partly born. Even though they emerged from the same cultural bullion, the batch of ingredients that transformed the stock to soup, I argue, makes them substantially different; and more so the stakes for prying apart Anonymous from the far right are high for both political and intellectual reasons. In this talk I will compare them, honing in on their origins/genesis, methods, tactics, modes of recruitment, not only to highlight substantial differences, but to make the broader case for careful historical analysis in media studies work and to call for the end of a class of categories, like Internet activism, that fail to capture the dynamics and importance of online tools for political movements today.
GAD Awards Ceremony and Reception
Friday November 16th, 7:45 PM – 9:00 PM
Hilton, Winchester
The General Anthropology Division honors those individuals or group selected for Exemplary Cross-Field Scholarship, the GAD New Directions Award for public outreach, the Diana Forsythe Prize (with the Society for the Anthropology of Work), and the David Hakken Graduate Student Paper Award from the Committee for the Anthropology of Science, Technology, and Computing.
History of Anthropology (HOA) Interest Group: Will meet for drinks during the GAD Awards Reception.
History of Anthropology (HOA) interest group will meet for drinks during the GAD Awards Reception.