GAD has hosted a distinguished lecturer at the annual meetings for nearly twenty years.
Videos and/or text of the most recent GAD Distinguished Lectures.
2017 GAD Distinguished Lecture by Bonnie Nardi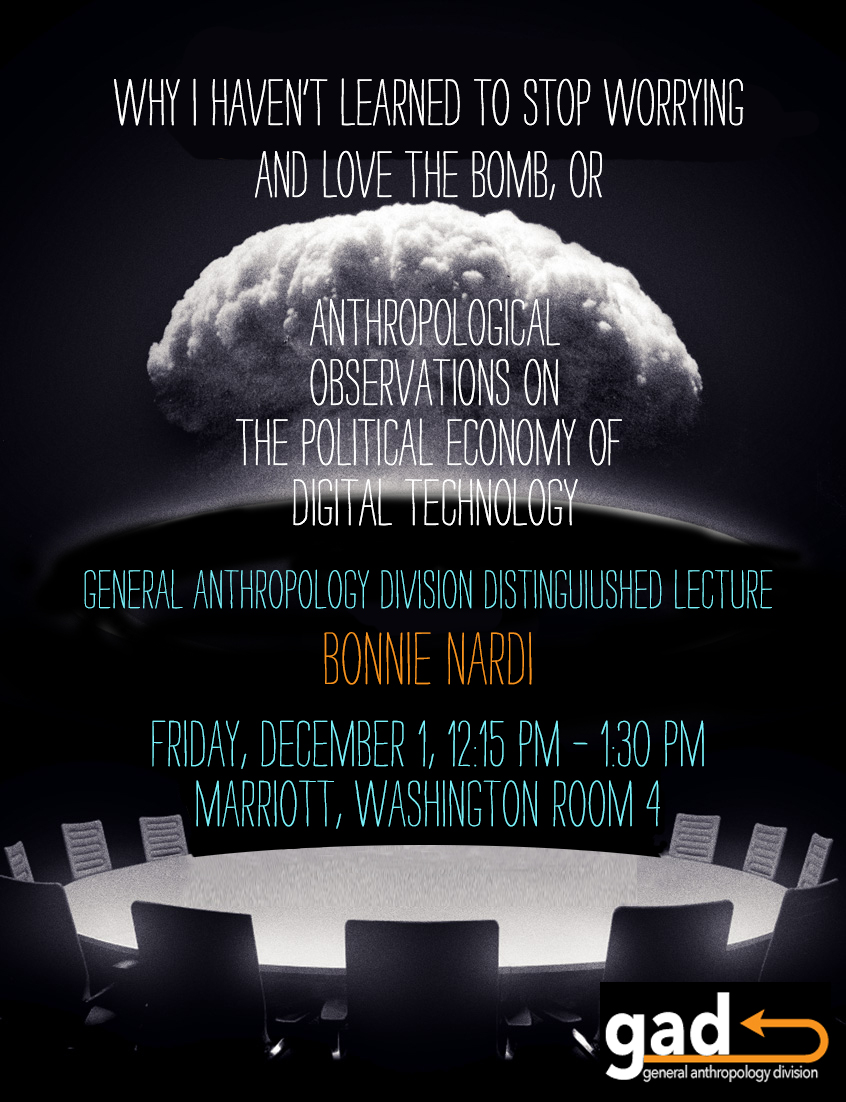 Friday, December 1, 12:15 PM – 1:30 PM
AAA Annual Meeting, Marriott, Washington Room 4
Bonnie Nardi, pioneering scholar of human-computer interaction and author of My Life as a Night Elf Priest: An Anthropological Account of World of Warcraft, will give the 2017 GAD Distinguished Lecture, "Why I Haven't Learned to Stop Worrying and Love the Bomb, or Anthropological Observations on the Political Economy of Digital Technology.".

Past GAD Distinguished Lectures
1995 Laura Nader (UCB), "The Phantom Factor: Impact of the Cold War on Anthropology." "Postscript on the Phantom Factor-More Ethnography of Anthropology," General Anthropology 4(1): 1, 4-8, Fall, 1997.
1996 Milford H. Wolpoff (U Michigan), "Australopithecus: A New Look at an Old Ancestor," Bulletin of the Council for General Anthropology 3(1): 1-7, Fall, 1996; Pt. 2, 3(2): 1-5, Spring 1997.
1997 Sherry Ortner (UCLA), "Anthropologists in a Media-Saturated World."
1998 Stanley Tambiah (Harvard), "Aspects of Transnational Movements and Diaspora Communities."
1999 Jean Clottes (French Ministry of Culture), "Chauvet Today," General Anthropology 6(2): 1-8, Spring, 2000.
2000 Chris Stringer (Natural History Museum, London), "The Evolution of Modern Humans: Where Are We Now?" General Anthropology 7(2): 1-5, Spring 2001.
2001 Adam Kuper (Brunel U,LSE), "Incest, Cousin Marriage, and the Origins of Anthropology."
2002 Rayna Rapp, (NYU), "Cell Life and Death, Child Life and Death: Genomic Horizons, Genetic Disease, Family Stories."
2003 Lila Agu-Lughod, (Columbia), "Ethnography in/of Nations" General Anthropology 10(2): 1-4, March 2004.
2005 Margaret Lock, (McGill U), "Rethinking Ourselves: The Molecular Body and the Eclipse of Nature/Nurture" "Living with Uncertainty: The Genetics of Late Onset Alzheimer's Disease," General Anthropology 13(2): 1, 6-9, Fall, 2006.
2006 William Durham (Stanford), "The Elephant in the Room: Evolution in Anthropology," General Anthropology 14(2):1-7, September 2007.
2007 Panel Discussion: Yolanda Moses, Jane Edwards, Kiran Cunningham, Joseph Kinsella, Debra Picchi, Jennifer Creamer, Hilary Kahn, Susan Sutton, Jim Peacock, "Campus Internationalization and the Anthropological Voice."
2008 Claire Smith (Flinders U), "Archaeologists in Action: Collaboration, Inclusion, and Engagement."
2009 Tim Ingold (U Aberdeen), "Anthropology Comes to Life," General Anthropology 17(1):1-4, Spring
2010 Karen Strier (U Wisconsin-Madison), "Why Anthropology Needs Primatology." General Anthropology 18 (1): 1, 6-8, Spring, 2011.
2011 Richard Borshay Lee (U. Toronto), "The !Kung and I: Reflections on My Life and Times with the Ju/hoansi," General Anthropology 19(1):1-4, Spring 2012.
2012 Richard Klein (Stanford), "Modern Human Origins," General Anthropology 20(1):1-4, Spring 2013.
2013 Bruno Latour (Sciences Po, Paris), "From Ontology to Deontology," General Anthropology 21(1):1-4, Spring,
2014 Richard Kurin (Smithsonian), "Producing Anthropology: Culture of, by, and for the People;" General Anthropology 22(1):1-5, Spring, 2015.
2015 Jonathan Marks (University of North Carolina at Charlotte), "Tales of the Ex-Apes," University of California Press.
2016 Regna Darnell (University of Western Ontario). "Who Was Franz Boas? How Do We Know? And Why Should We Care?" http://franzboaspapers.uwo.ca